May 4-23, 1936
Press Clippings
"France to New York—Turning from the somewhat French studio manner and subject matter prevailing in his first exhibition on his return from Paris a few years ago, Ary Stillman, now exhibiting at the Guild Art Gallery (through May 23), had begun to interpret New York. The hew material has brought with it a new strength and solidity, although his flaky brushwork persists. Sometimes his method serves greatly to his advantage, as when he presents harbor haze or the confusion of Sixth Avenue under the "El." At any rate, the artist is turning to the metropolis in an attractively romantic manner and it is evident that his esthetic effort at interpretation is an earnest and searching one."
The New York Times
May 10, 1936
In Local Art Galleries
By Hovard Devree
"At the Guild Art Gallery Ary Stillman has an exhibition of his recent New York landscapes, making his third exhibition here since his return to America from Paris three years ago. This is composed of various low-keyed impressions of city streets, parks and harbor scenes, one of which shows Broadway at night with convincing luminosity. Generally this artist gets a subtle feeling of atmosphere in his subjects but leaves them vaguely realized. Two of the strongest, "Port of New York," and "Wharf, East River," both are built on a solider pattern than is usual in his painting. "Interior No. 2" and "On the Balcony" represent in the display a warmer palette, having a fresh charm which the New York subjects lack."
New York Herald Tribune
May 10, 1936
Other Shows of the Week
By C.B.
"Renouncing the eccentricities of technique that marred his exhibition last season, Ary Stillman now exhibits a new group of paintings, mostly New York City street scenes, at the Guild Art Gallery. These canvases have mood and atmosphere, achieved in the straightforward fashion and without that laborious straining for wistfulness which made his portraits of last year seem so trivial. The present group of subjects are for the most part held to a chalky gray key, with small accents of warm color to give movement and shimmer. One of the most successful paintings is the "Rural Kitchen," in which a white wall delicately absorbs tints from the floor and stove."
Brooklyn Daily Eagle
May 10, 1936
"Ary Stillman mixes his pigments with temperament—a singularly reserved and sensitive temperament, it would appear. The garish and the strident, at his hands, become veiled in atmosphere and resolve themselves into a mystery of grays, softly iridescent and shimmering. Volumes are not neglected but they keep their places and do not obtrude themselves unduly. As a result his canvases have a satisfying unity, and grow on one with association. All this has been evident before, in his luminous interiors, in his still lifes and in his portraits. Now, in his present exhibition at the Guild Art Gallery, 37 West Fifty-seventh street, he has ventured into the New York scene, into Broadway at that, and its maddest orgy of advertising lights, and drawn over it all the charitable veil of poetry. "Astor Hotel," "Broadway," "Forty-second Street," and the "Washington Monument" down in Union Square are particularly admirable. The crowds are here, the glaring lights, but made livable with and as one would like to remember them, and not oppressively like what they are in reality.
The collection, by the way, remains on view until May 23, and it is just as well not to miss it, if you can manage to get around."
The New York Sun
May 14, 1936
By Melville Upton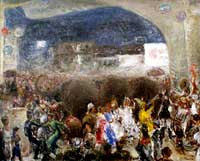 Mardi Gras, Coney Island
c. 1930s
oil on canvas
31 3/4 x 25 1/2
Private Collection, TX
The Guild Art Gallery lives up to its standard with an exhibition of paintings by Ary Stillman. This artist, now in his forties, was formerly a jeweler living in Sioux City, Iowa, and left his occupation to become a painter. He works in the Impressionist tradition, but his canvases prove that he has firmly established his own kind of expression, which consistently appears in each picture. He frequently uses a palette knife, along with a brush. White is mixed in nearly all his paint, if not freely used alone. This fills his color with a grey quality which is often pleasing.
Stillman's chief concern seems to be with matters of light; the glow or the reflection of it, and the part played in nocturnal scenes by electric illumination. He keeps his color restrained, yet in his own way manages to suggest dazzlement or brightness with considerable success.
There are no figure pieces in the group; obviously Stillman is a landscape painter, yet he is also fortunate in his studies of interiors and the city. For sheer color, "Gasoline Station" is pleasing, especially in its delicate browns. Among the night scenes are "Astor Hotel," "Forty-second Street," "Washington Monument" and "Broadway." His interest in composition is evident in "Mardi Gras, Coney Island," as well as in many others. "Union Square," which is seen almost entirely in terms of black, grey and white, has the simplicity of a rural scene. Stillman has kept a Western honesty in his work which saves it from being in any way ostentatious. There is good painting in "Rural Kitchen," and some quietly charming color.
The Art News
May 16, 1936
An Iowa Painter Has a Personal Style
By Ann H. Sayre
| | |
| --- | --- |
| Exhibited Artwork Titles | |
| Wharf, East River | Restaurant |
| View from my Window | Astor Hotel |
| Gasoline Station | Interior #2 |
| Interior #1 | Early Morning |
| Union Square, Night | Broadway |
| Washington Monument | Mardi-Gras in Coney Island |
| Gas House, Jersey | Forty-second Street |
| Manhattan Bridge | On the Balcony |
| Port of New York | Rural Kitchen |
| Sixth Ave "L" | |