"Recent Paintings by Ary Stillman" at Babcock Gallery
May 1-20, 1939 , New York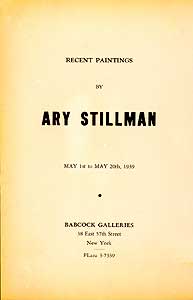 Press Clippings
"Ary Stillman's paintings at the Babcock Galleries show intensive study and are marked by the rich light which seems to glow from their oscillated surface. Almost Rembrandtesque is the gold which illuminates the faces and hands of his Chess Players, while the evanescent atmosphere of a railroad station is well indicated in the swiftly executed "Between Train Time." The glare of "Times Square at Night," the brilliant stress of the spotlight on "Night of Stars," "Madison Square Garden," and the festive shimmer of rich tones in "The Mardigras" all attest to the accomplishment of this artist as do a series of heads which are brief but well planned in quietly charming color schemes."
The Art News
1939
"Ary Stillman, at the Babcock Gallery, is holding an exhibition of paintings which indicate that he has found the range of color and the technical ideology which correspond to his conceptions. He uses a rich impasto of muted color which has something of the character of a mosaic, colors not so much blended as set into the pattern producing net luminosity but a latent richness. Light is an important factor in his work, intensifying his color and setting the key of each canvas. "Night of Stars" is an outstanding example of the artist's ability to heighten an imaginative idea through light pattern. There is nothing exotic in his roster of subjects – deserted factories, "Times Square," "Coney Island" or the cafeteria crowds – it is the individual reaction to these familiar themes set down in personal language that gives the work its particular quality."
The New York Journal and American
May 7, 1939
"Recent paintings by Ary Stillman went on display last week at the Babcock Galleries. Mr. Stillman has a sympathetic eye for the New York scene especially at night. In 'Night of Stars, Madison Square Garden' and 'Times Square at Night' he displays a strong love of vibrant color and light as well as a talent for handling masses. The paintings are lively and impressionistic."
Notes and Comment on Events in Art
New York Herald Tribune
May 7, 1939
Exhibited Artwork Titles:
Night of Stars, Nude, Times Square at Night, The Flour Mill, Deserted Factories, Zella and her Doll, Portrait of Peggy, Coney Island, Head, Head in Profile, Cafeteria, Between Train Time, Night, Girl in Red Dress, The Side Show, The Zoo, The Mardigras.

Zella and Her Doll
c. 1950s,
oil on canvas,
[Private Collection]