"Recent Paintings by Ary Stillman" at Ehrich-Newhouse Art Gallery
March 11-23, 1935, New York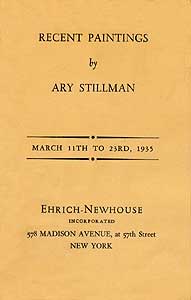 Press Clippings
"Mr. Stillman, who returned to this country about a year ago, after extensive studies abroad, is fairly well known to gallery frequenters. Heretofore, however, he has shown figure subjects chiefly—canvases marked by rare color quality. Now he has turned his attention seriously to landscape and is showing subjects that have taken him as far afield as Iowa, North Dakota, and Mexico. In these, as in his figure subjects, while the form is sufficiently established, it is the unfailing charm of color and atmospheric envelope that fascinates. Among the canvases in this new field that seem particularly admirable are the "Gasoline Station, Sioux City," "Old House," from the same locality, "Landscape, Philadelphia," and "The Window." Other works that appeal are the "Interior" and his several figure subjects, most of which, it would appear, have been seen before. They lose nothing by being seen again."
The New York Sun
March 14, 1935
By Melville Upton
"His familiar impressionist technique is more suited to landscape than portraits, it would seem. It makes a particularly apt medium for conveying the rich, lush color and shimmering warmth of the spring countryside. Yet the portraits are hardly less successful. Curiously he manages to give these compositions of loosely applied paint surprising strength and solidity. Each sitter emerges above the paint a complete individual, given depth literally and figuratively by a technique which cleverly avoids the distortions of expressionism and the slickness of straight portraiture."
The New York World Telegram
March 16, 1935
Exhibited Artwork Titles:
Girl with the Black Beret, Gasoline Station in Sioux City, At the Window, A Street in Saltillo, My Mother, The Old House in Sioux City, Artist and Model, Sylvan Lake in the Black Hills, A Garden in Monterey, Fishing Day, Sengalese Girl, The Green House, Central Park, Interior, Sylvia (Loaned by Dr.M.Pozen), Hon.Bernard S.Deutsch, Landscape at Philadelphia, Interior of a Forest in Minnesota.

Girl with
Black Beret
1932,
oil on canvas,
[Private Collection]