Press, Excerpts from New York City Press, 1934-1945
"Ary Stillman, well known artist, has just returned to New York after a sojourn of twelve years in Europe, and is holding a one-man show at the Midtown Galleries, 559 Fifth Avenue; this exhibition opened April 18th and will continue through May 5th.
This is Stillman's first exhibition in New York since his return from Paris. For most of twelve years he has been living in Germany, Italy, Palestine, France, and other parts of the world. He has studied the old masters of Italy and the new masters of Paris and has evolved an extremely personal style.
Stillman was born in Russia and at an early age settled in Iowa where he went into the jewelry business. Paralleling the great Renaissance artists, he went from his apprenticeship into the study of painting. This interest took him to New York where he studied at the National Academy of Design. From the Academy he went to Europe where he has been for the last twelve years, except for a trip back to paint the Mexican Indians. This present exhibition of Stillman's reveals the mature results of his years of study and work and should bring him the same recognition in this country that he has won in his many exhibitions in Paris. He had one-man exhibitions at the Gallerie Zak and at the Gallerie Bernheim Jeune in Paris and has exhibited in all the important group shows held there."
The Official Metropolitan Guide
New York
April 1934
"Stillman has developed a style of singular sensitiveness and charm. Avoiding alike the sharp edges or heavy outline so much in evidence in the work around him, he conceives his volumes in mass and as intimately related to their surroundings. As he has a feeling for tone and subtly modulated color, his canvases take on an air of meditative aloofness that invests even commonplace accessories with a touch of distinction. Whether dealing with a kitchen interior or a nude, or with one of his various portraits, he reveals a distinct and alluring personality."
The New York Sun
April 26, 1934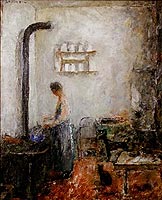 The Kitchen
1932, oil on canvas
24 x 20 in.,
[Ary Stillman Green Room,
University of Houston,
Moores School of Music, TX]
"Ary Stillman, whose paintings are being exhibited at the Midtown Gallery, also recalls the French Impressionists. But only if you can imagine them with a dash of Old Master will you have Stillman. His work has a charm, a lyricism, a luminosity, which are most exciting. One piece in particular, "Interior, Kitchen" is a marvel of beautiful lighting. His pieces make use of rich, velvety blacks, glowing blues, poignant greys."
The New York World Telegram
April 21, 1934
" … He traveled through Spain, Italy and France, looked at and studied the Primitives, the painters and tapestry makers of the early Renaissance and the pre-Renaissance period. From these painters and tapestry makers and from the Japanese print-makers, he extracted the elements of his own art and sought with this knowledge to create something which would have the impress of his own emotions, his own personality…
For 12 years he lived, studied and toiled abroad, until he had achieved an approximation to his goal, which was to transfer onto canvas the personal vision of Ary Stillman in the personal technique to which he had struggled, but informed with the knowledge he had gained from the study of those masters of the past to whom he had spiritual kinship.
His problems included the problem of making the colors on the flat canvas suggest depth and contour, so that the objects would seem to grow out of the canvas. His problems also included the one of extracting all the wealth and the richness and the color out of a limited palette, a palette limited entirely to earth colors.
….I realized as I looked at these pictures that here was a fresh talent and as I looked I felt that this Stillman painted as if he had crushed gems into concrete and put that strange, though solid, mixture on his canvas in lieu of paint."
Jewish Daily Bulletin
New York City
April 1934
"His familiar impressionist technique is more suited to landscape than portraits, it would seem. It makes a particularly apt medium for conveying the rich, lush color and shimmering warmth of the spring countryside. Yet the portraits are hardly less successful. Curiously he manages to give these compositions of loosely applied paint surprising strength and solidity. Each sitter emerges above the paint a complete individual, given depth literally and figuratively by a technique which cleverly avoids the distortions of expressionism and the slickness of straight portraiture."
The New York World Telegram
March 16, 1935
"In the paintings by Ary Stillman now on view at the Guild Gallery the impressionistic style of the artist may be seen in a dozen or more studies of crowds. The swarming effect of a multitude of faces and figures is particularly susceptible to his personal handling of material, and he is plainly fascinated by the patterns that evolve from the moving masses at such focal points in a city as "Times Square". In "Theatre Hour" with its converging lines of traffic, crowded streets and palpitating lights he has successfully created his scene, without the definite definition of a single object, except perhaps a lamp post in the foreground. His meaning, however, comes through the misty atmosphere and the scene is alive with atmospheric suggestion…. "Outdoor Theatre at Washington Square", in which the light from the stage strikes the crowd, shows again his favorite subject, and it is a dramatic and sympathetic treatment of the theme."
The Art News
April 3, 1937
"Ary Stillman, who is having a showing at the Guild, 37 West 57th Street, derives largely of course from the last century. His "Flowers" for example is suggestive of the poetical approach of Redon, but in the main his work is keyed to a subdued impressionism – subdued in color, but still primarily concerned with effects of light and atmosphere, not that design in the larger sense is overlooked. But whatever his theme, he lends the guiding hand of suggestion to the imagination, which gives his work a generally charming and personal appeal. "Theater Hour" at Broadway's liveliest stretch; "The Bowery at Coney Island" to mention but one of his glamorous versions of that rather rowdy and garish resort, seem particularly pleasing. You get the distilled essence of it all without its vulgar reality, which last calls for sturdy stomachs indeed."
The New York Sun
March 27, 1937
"This years exhibit of paintings by Ary Stillman at the Guild Art Gallery shows a further preoccupation with the teeming life of the city's amusement seekers. Mr. Stillman does not emphasize the blare of color that surrounds the crowds on Broadway or at Coney Island. He is absorbed rather in rendering the pulse-bat of the whole moving human spectacle. He does this by keeping the whole canvas in a virtual monotone state, within which he observes the most subtle distinctions in atmosphere and movement."
The New York Post
March 27, 1937
"Ary Stillman's paintings at the Babcock Galleries show intensive study and are marked by the rich light which seems to glow from their oscillated surface. Almost Rembrandtesque is the gold which illuminates the faces and hands of his Chess Players, while the evanescent atmosphere of a railroad station is well indicated in the swiftly executed "Between Train Time." The glare of "Times Square at Night," the brilliant stress of the spotlight on "Night of Stars," "Madison Square Garden," and the festive shimmer of rich tones in "The Mardigras" all attest to the accomplishment of this artist as do a series of heads which are brief but well planned in quietly charming color schemes."
The Art News
May 1939
"Ary Stillman, at the Babcock Gallery, is holding an exhibition of paintings which indicate that he has found the range of color and the technical ideology which correspond to his conceptions. He uses a rich impasto of muted color which has something of the character of a mosaic, colors not so much blended as set into the pattern producing net luminosity but a latent richness. Light is an important factor in his work, intensifying his color and setting the key of each canvas. "Night of Stars" is an outstanding example of the artist's ability to heighten an imaginative idea through light pattern. There is nothing exotic in his roster of subjects – deserted factories, Times Square, Coney Island or the cafeteria crowds – it is the individual reaction to these familiar themes set down in personal language that gives the work its particular quality."
The New York Journal and American
May 7, 1939
(One-man show at Andre Seligmann Gallery) "….Twenty-five compositions are on view, all of them reaching heights of technique he never touched before. For one thing, they're infinitely more vigorous. The pigment is heavy, yet laid on with verve. Colors are clear and vibrant. Form emerges more solidly too. The fabric of Stillman's pictures has become sensuously appealing. In the picture called "Thieves' Market" for instance, you get this richness of surface. In "Fruit Market" there is beautiful relationship between figures, architecture and atmosphere. "Out of Doors" is full of a luminous glow with bright flower foreground and deep perspective developed in perfect relation to each other."
The New York World Telegram
December 5, 1942
" ….Read what you can from Ary Stillman's treatment of crowds – as harmonious with their surroundings as the formless greeneries of his landscapes are integral parts of the woods they form. Be entranced by his presentation of Massan Street, financial district, which is not a J.P. Morgan view of stone vaults, but a romantic, mysterious bit of man-made elegance. Likewise his city squares, of which there are two, have all the élan of painting another generation ever had, plus the dignity of detachment from too immediate consideration of the scene."
Cue Magazine
December 12, 1942
(Group Show at Andre Seligmann Gallery) "…One of the best pictures among the 30 included is by Ary Stillman, modest, impressionist painter, who has been around for years and only within the past season or two come out of his shell. "Summer Cottage", it is called, and in its quiet, unassuming way it is one of the most distinguished paintings of an interior that I have ever seen. It has something of a Bonnard quality (except that I like it much better than any Bonnard I ever saw.) The delicate blue floor, the imaginative handling of the rug pattern, the arrangement of spatial areas, the delicacy of taste of the whole are extremely satisfying."
The New York World Telegram
April 10, 1943